Lensgo DM200 Camera Shotgun Microphone
PROFESSIONAL GRADE VIDEO MICROPHONE: Shotgun microphone captures high-quality audio and supports headphone monitoring on smartphones with third-party apps.
UNPARALLELED CLARITY: Highly accurate supercardioid delivers crisper audio than your standard directional microphone. Shock mount virtually eliminates handling noise and vibrations.
1-YEAR WARRANTY: We've got your back! Our products are designed to ease your technical woes, not add to them. Our friendly US-Based support is here to help.
BATTERY-FREE DESIGN: Microphone draws power directly from your phone or camera. Compatible with any recording device with a 3.5mm TRS or 3.5mm TRRS port.
INCLUDES: Shotgun Microphone, Shockmount, Windscreens, Carrying Case, 3.5mm to TRS adapter, and 3.5mm to TRRS adapter.
Buy now
Learn how to use: video tutorial
---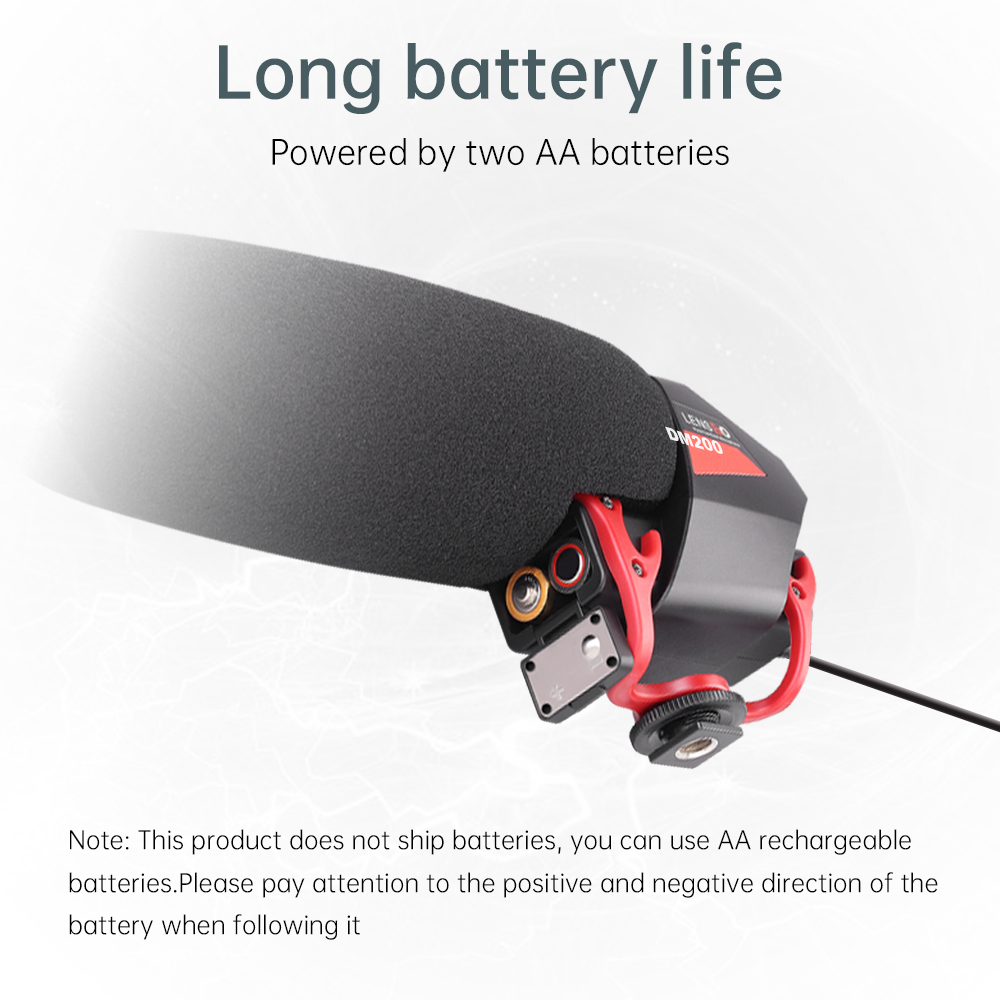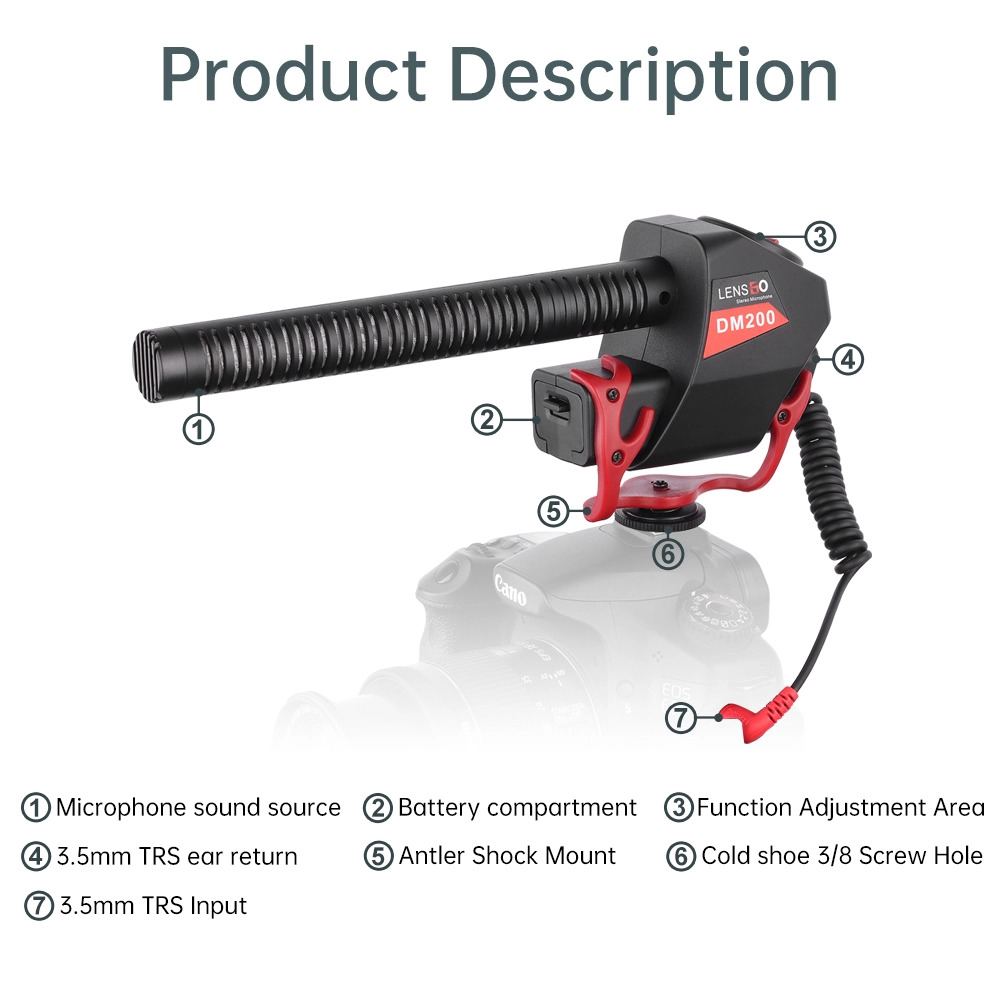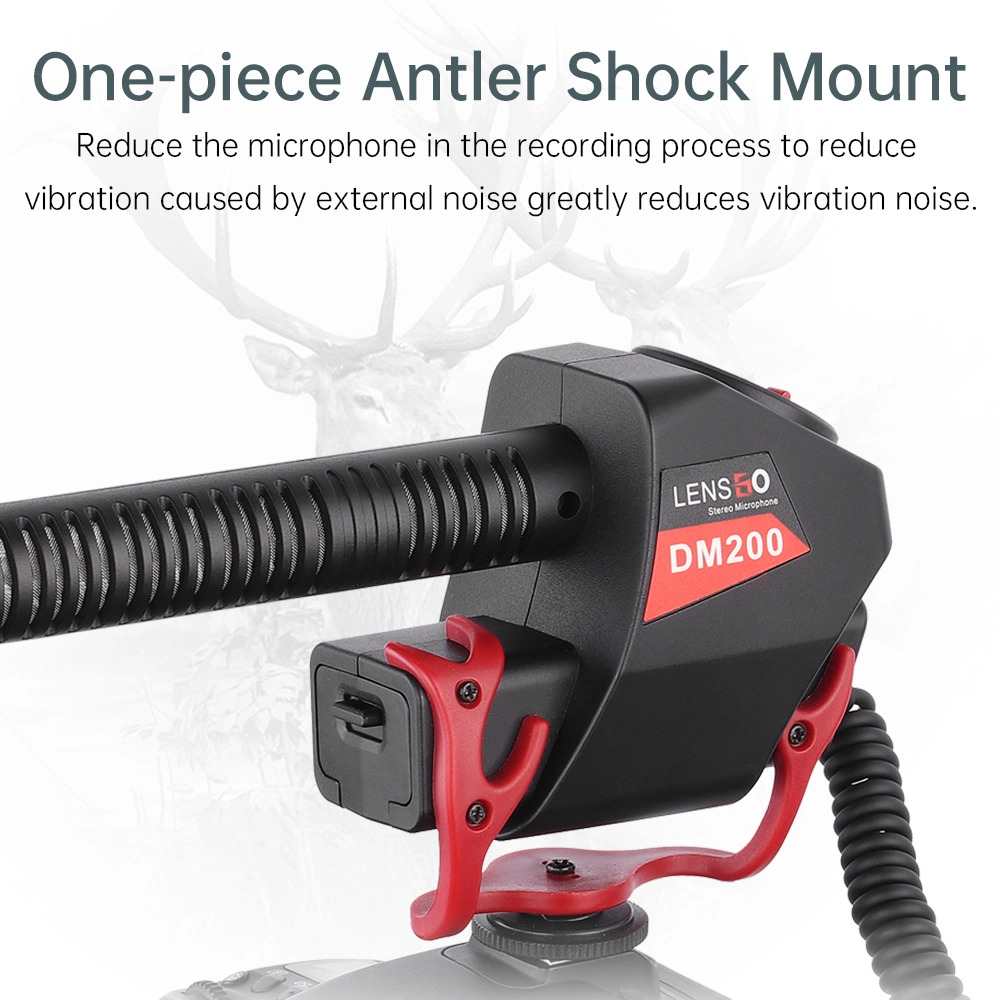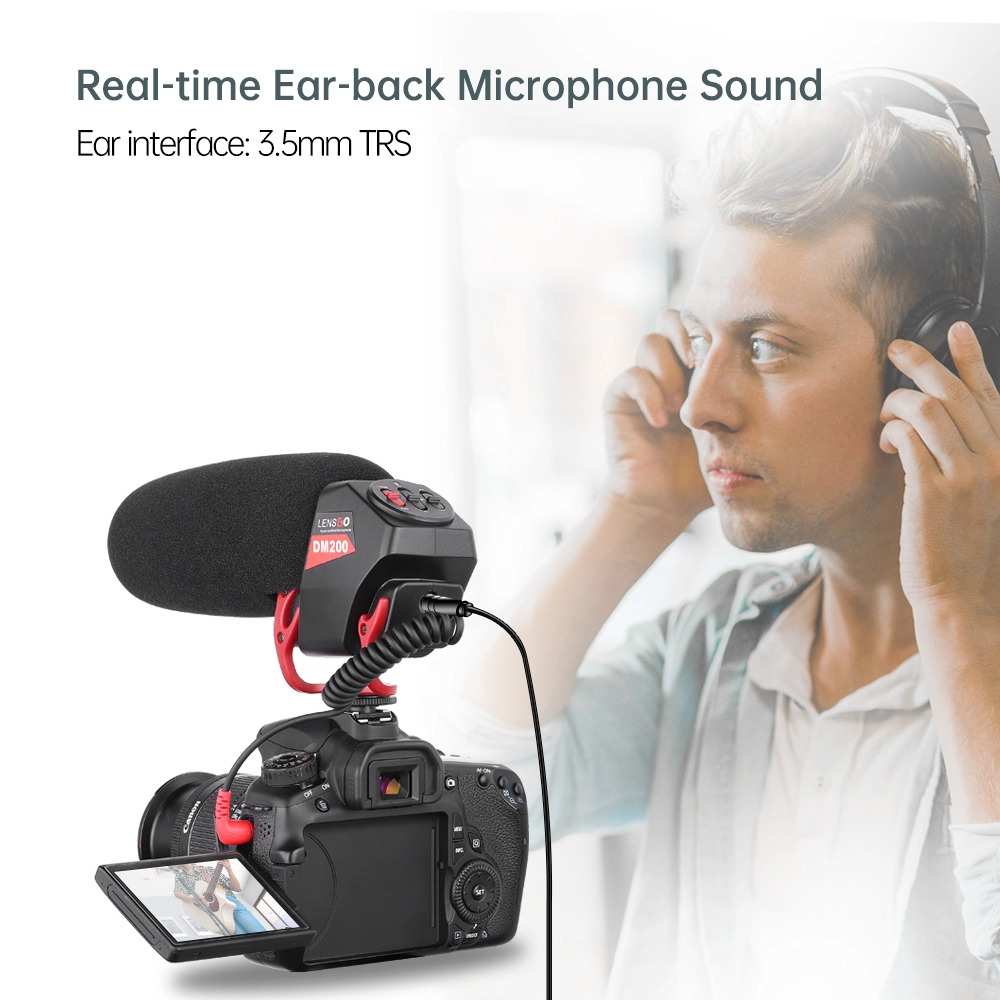 ---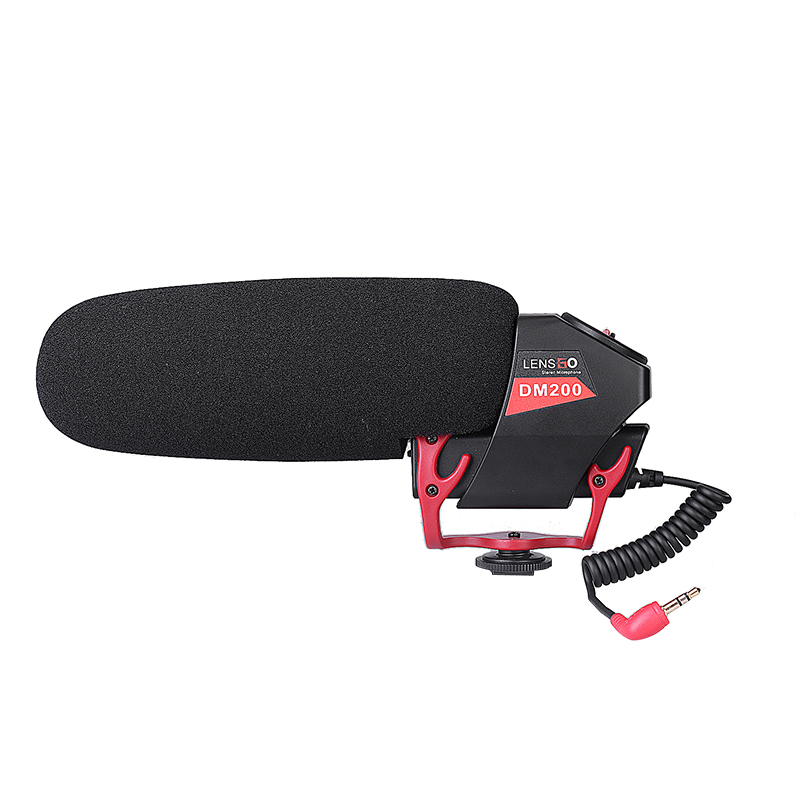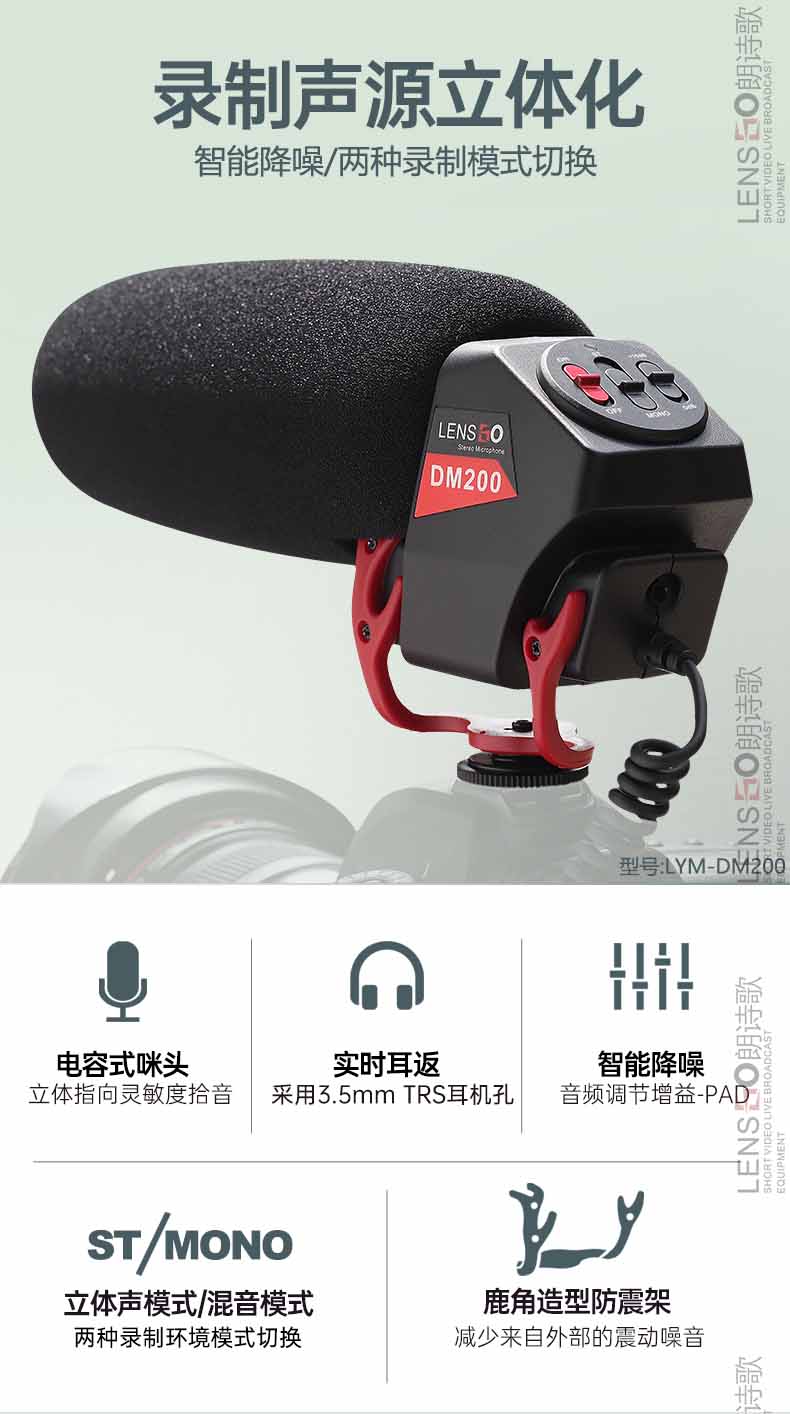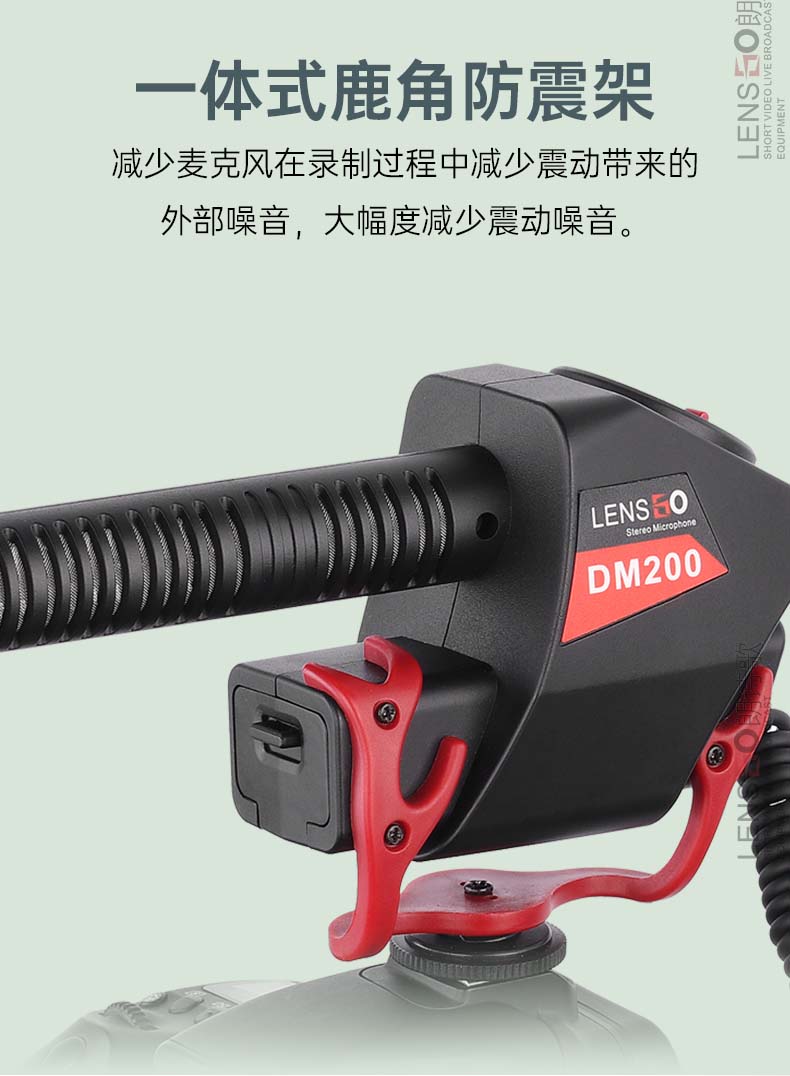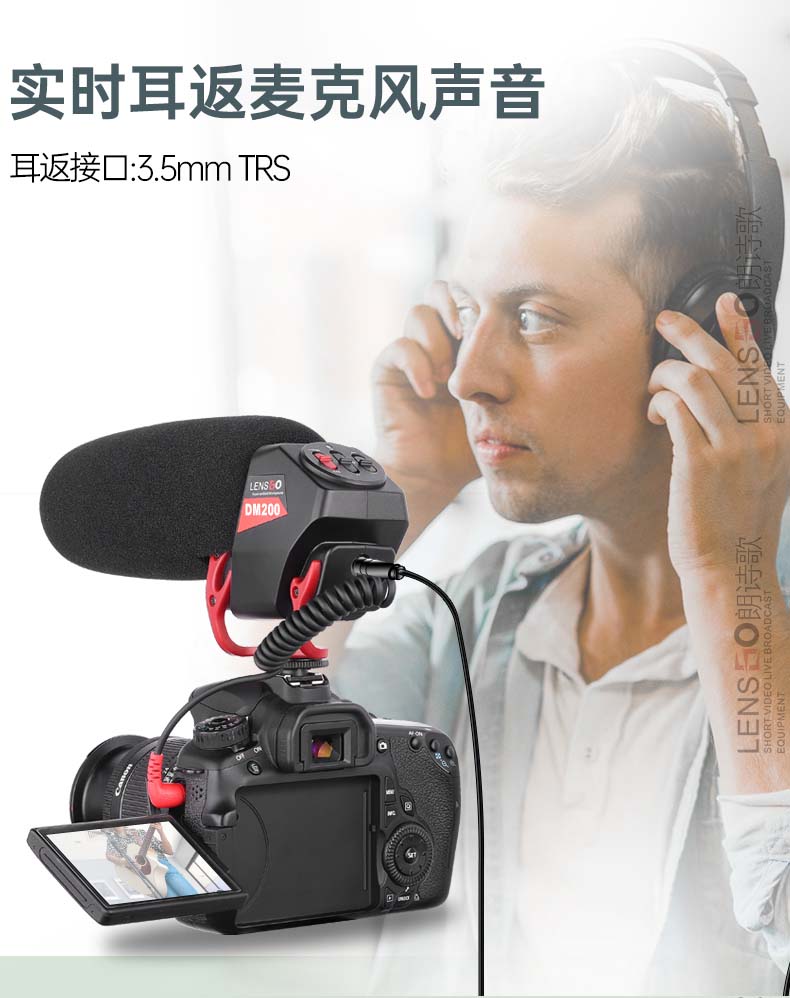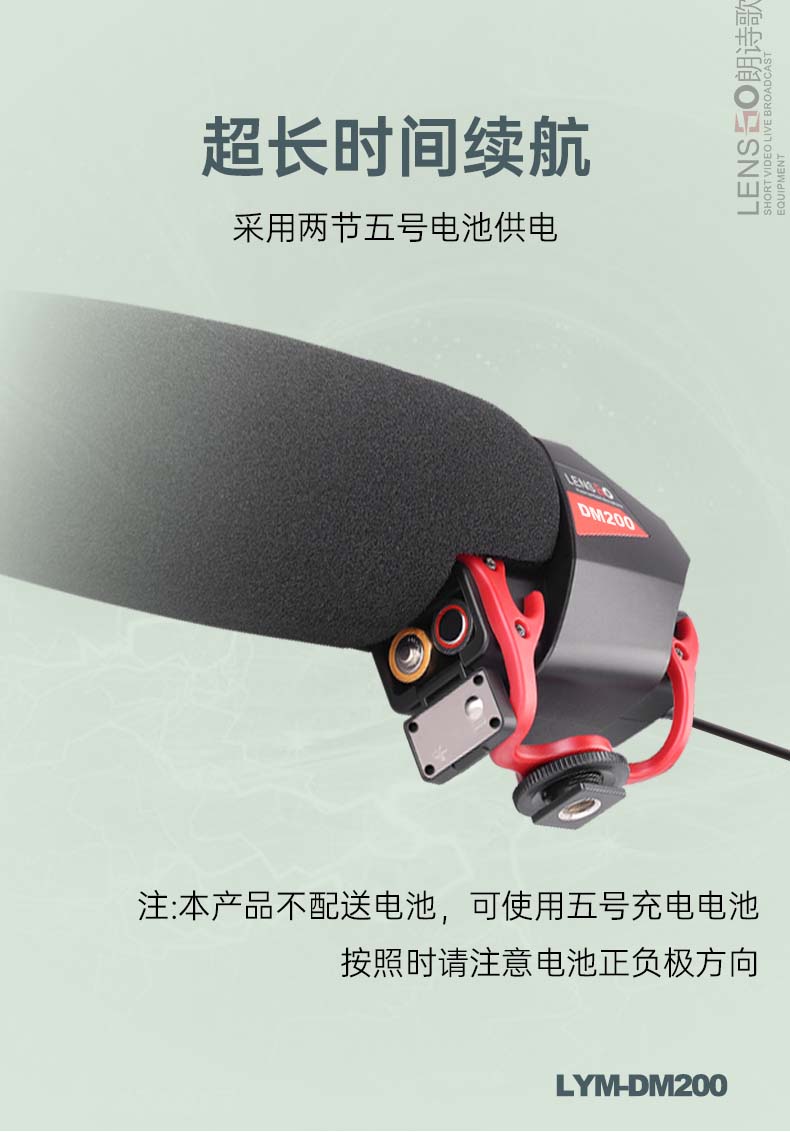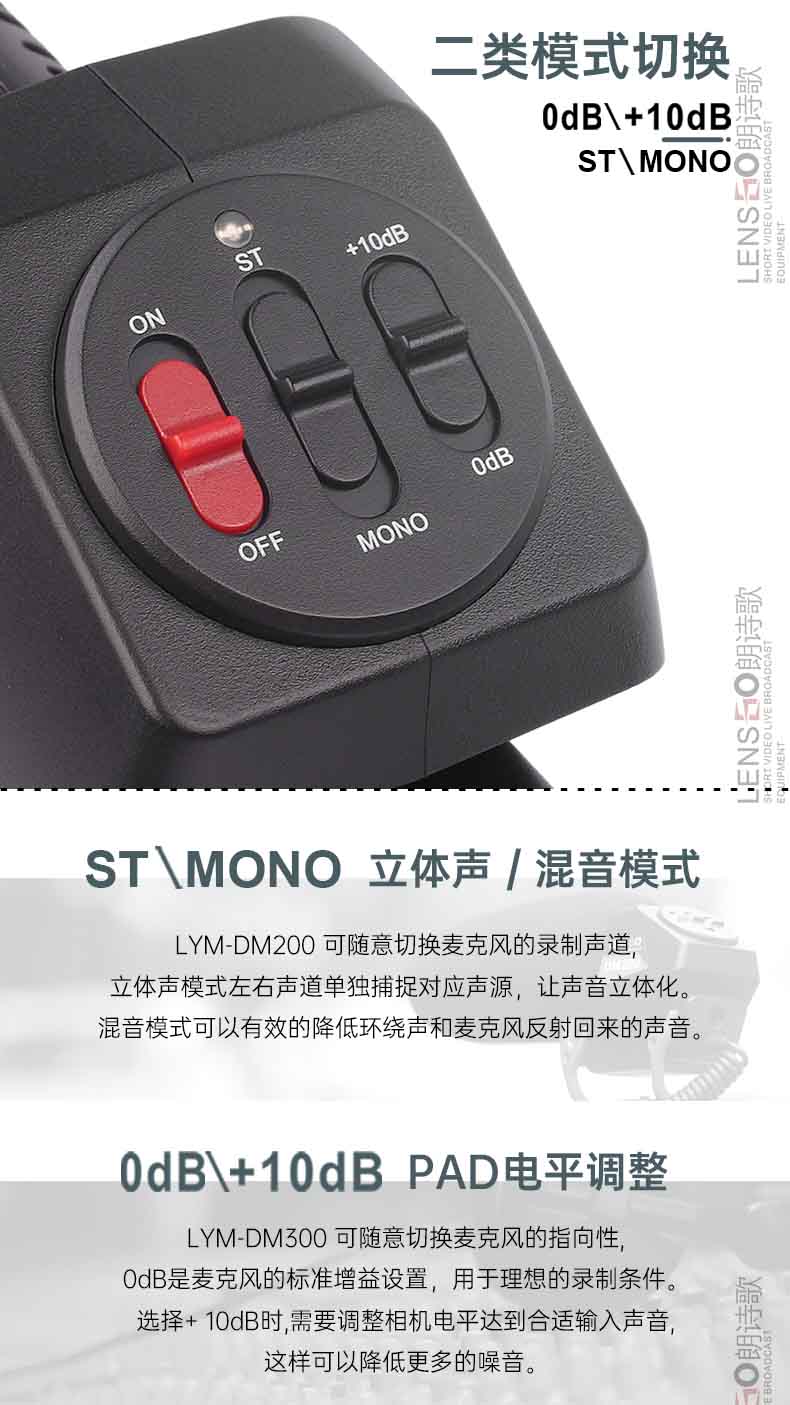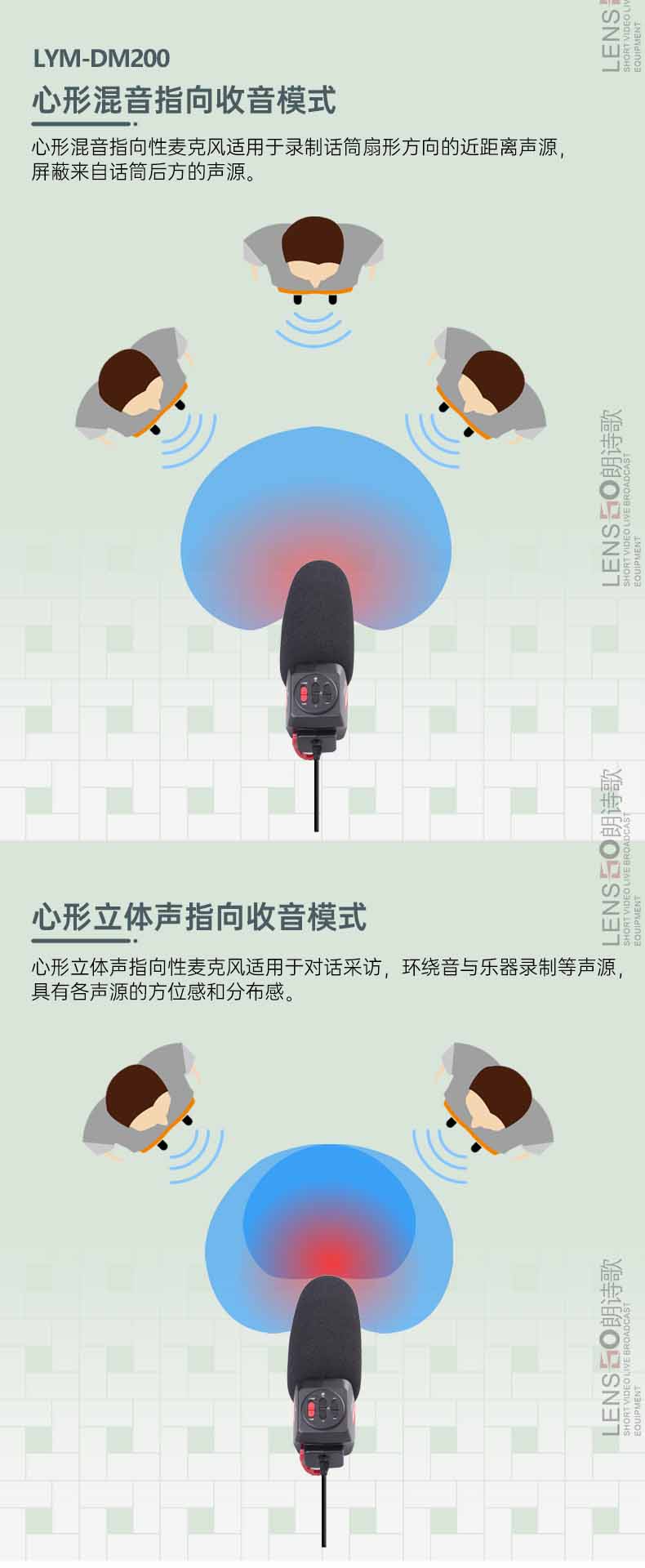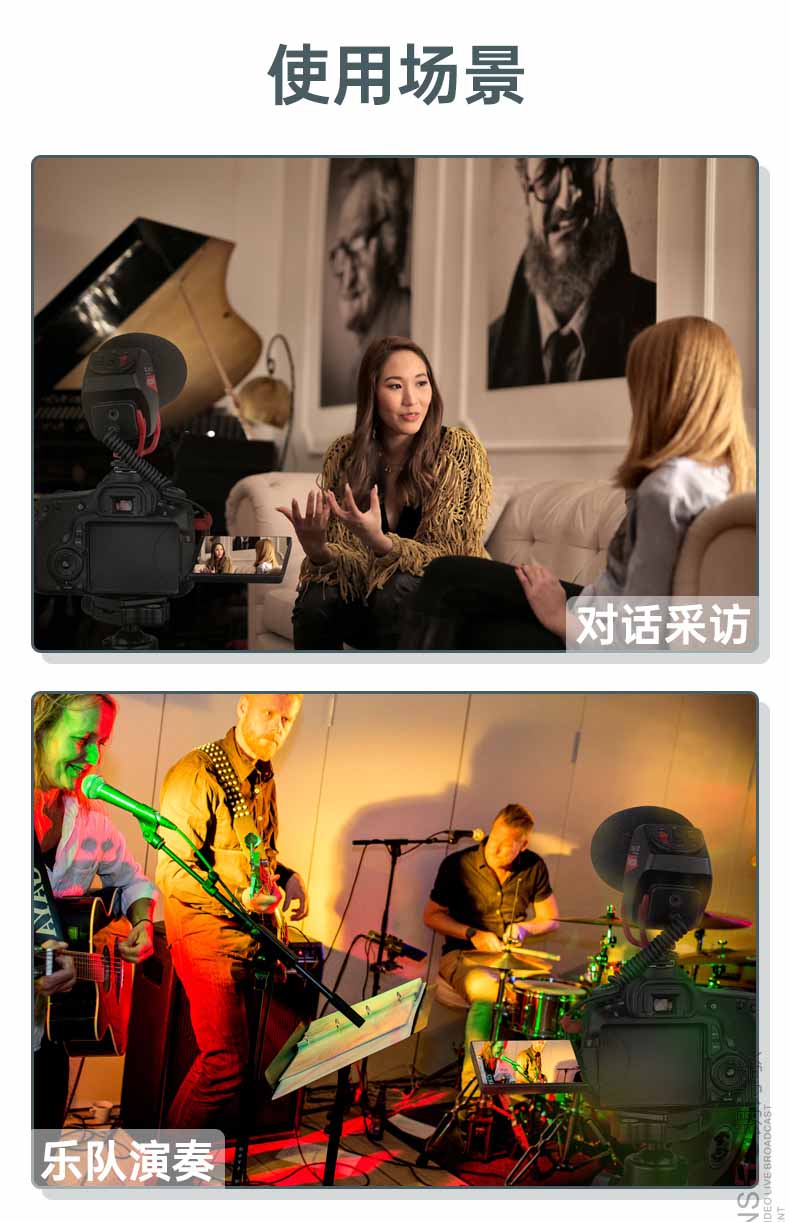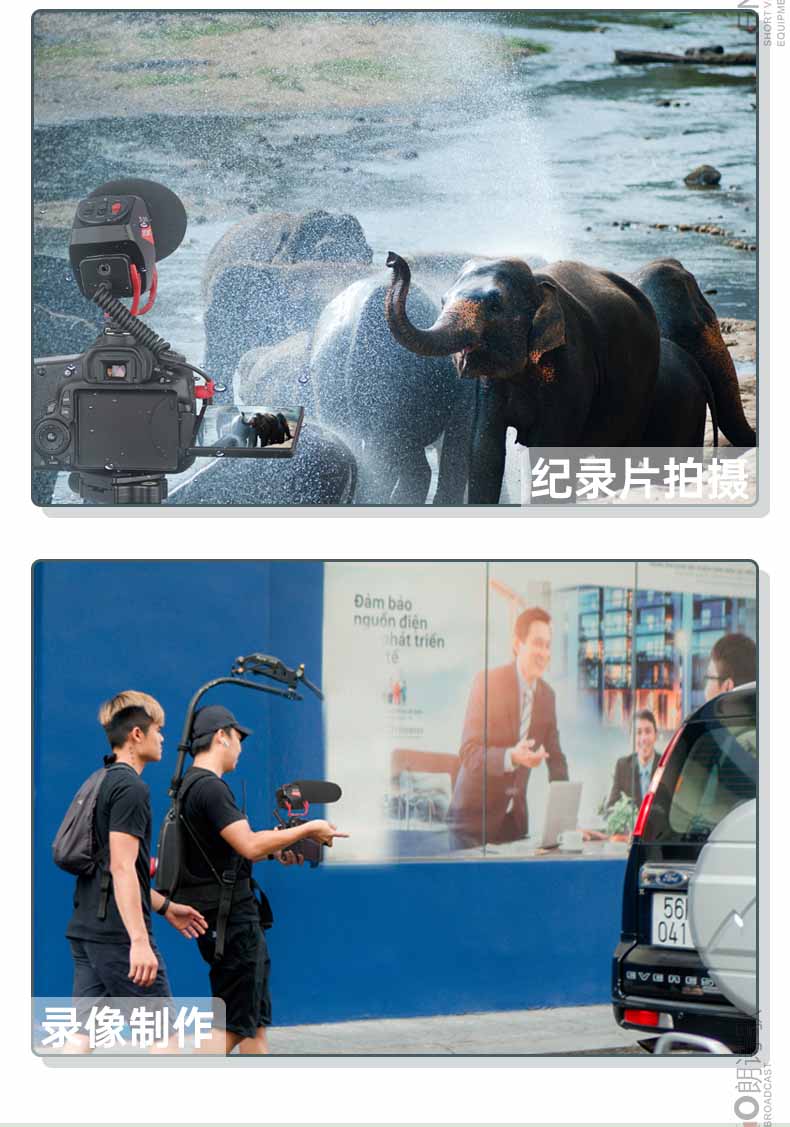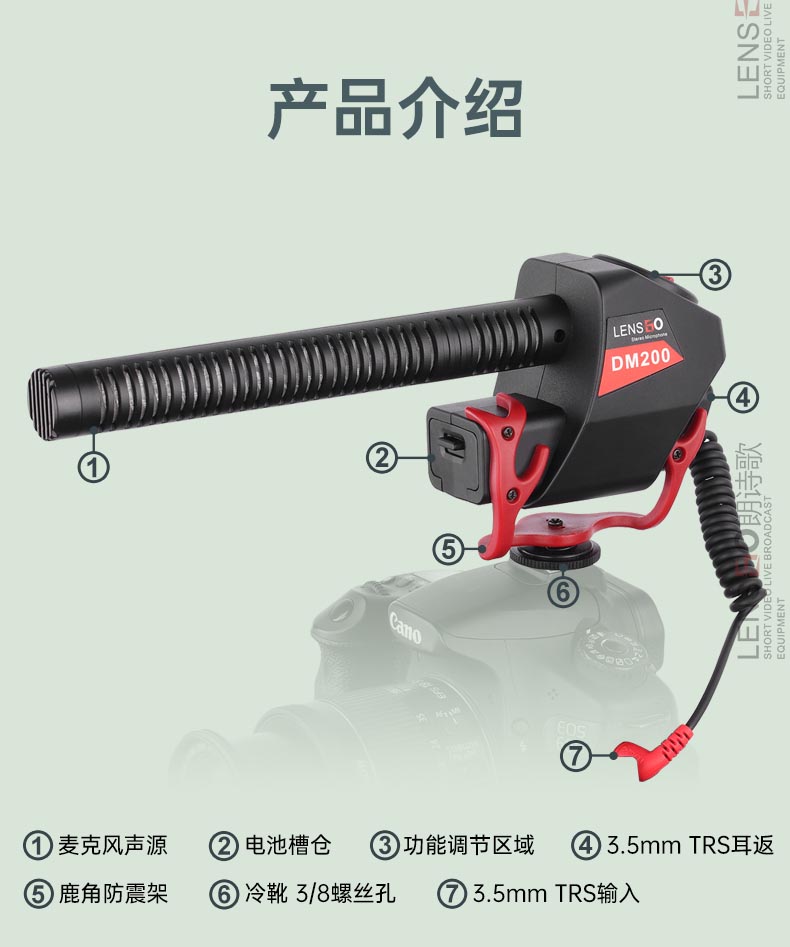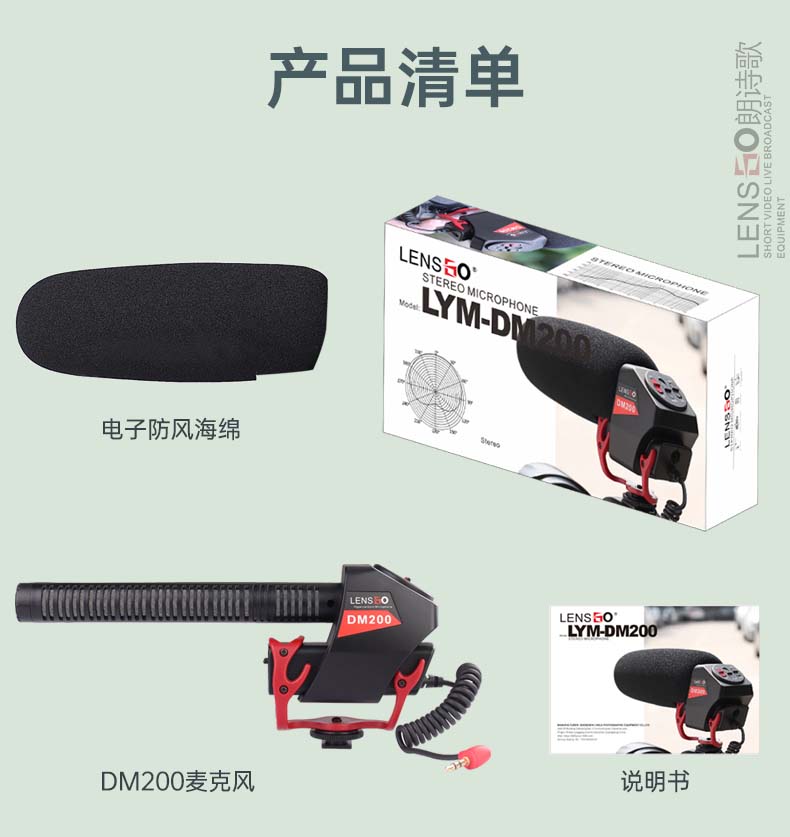 Specification
Specs
| | |
| --- | --- |
| Polar Pattern | Omnidirectional |
| Material | ABS Plastic, copper |
| Working Distance | 50m(LOS),20m(NLOS) |
| Input Frequency Range | 40Hz-20KHz |
| Receving Sensitivity | -38dB(+/-3dB)/0dB=1vPa,1kHz |
| Delayed | <20ms |
| Signal/Noise | 78db |
| Impedance | 200 ohms+/- 30% |
| PAD switch | +10dB, 0dB |
| High-pass filter | two steps (flat,100Hz) |
| Battery life | 130H(Nanfu) |
| Antenna | Spring Antenna |
| Weight | 180g |
| Size | 230mm*22mm*22mm |
---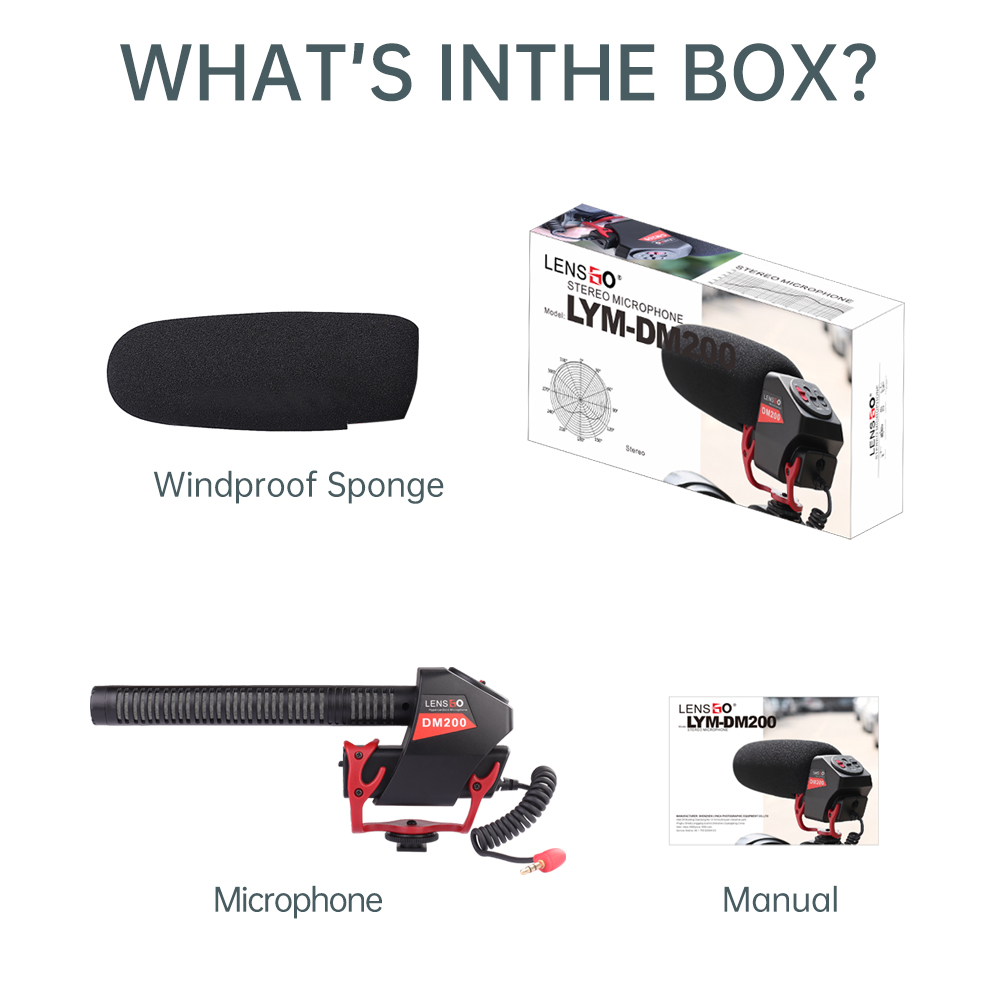 ---
×
FAQs
Kind of. You'll need a smartphone holder that has a cold shoe mount on top. Then you'll need a TRS female to TRRS male adaptor cord. With those together, I've used this on an LG G7. Great sound to compliment the excellent video the phone is capable of shooting. I have to say that this is a bit heavy to balance on a phone.
Yes, there is a 3.5mm mic input port on the a6500.
I used mine straight into my computer (with an extension cable) and it worked very well.
Hello, the mic works either as a mono or as a stereo microphone - not both at the same time. There is a switch on the mic.
I haven't used it for this purpose yet, but I think it would depend on a couple of factors - including how far away you are from the action, and how loud (or how quiet) the performers are. You won't get a lot of "hiss" like you would from other external camera mics, if you're using the +20dB switch.
The card is an additional way to capture the audio. The shotgun mike has an audio output jack, and you can connect it to the audio input of your camera and thus get the audio from the shotgun to be the soundtrack on your video file (the cable for this connection is provided with the mike). I find the card very useful as a backup or "second" soundtrack - I let the camera(s) use their internal microphones for the video file soundtrack, and I also record to the SD card in the VP83. I am using an editing station to edit the videos after filming, and that provides me with the ability to choose the best sounding track out of the multiple audio tracks I captured during filming. Example - while filming a discussion panel using the shotgun track to "focus" on the main speaker, and cutting to the "wider mic" from the camera track when a multi-speaker discussion erupts.
Through several recordings, I found that it is not a 100% directional mike with a narrow angle. It tends to record additional ambient sound.
The only way I could see it working is if you use a 3.5mm to lighting cable connector otherwise not. The only way is to plug and play with the the 3.5 jack ther is no WiFi connectivity.
The integrated flash feature will give you a cleaner, clearer recording. It will also eliminate any type of hiss you might get. Basically, your not recording into the camera's internal mic and preamp, which can be noisey.
While I haven't tried the Samsung Smart phone, I have tried my iphone and it works with that.